MAGPUL PTS Masada Strealine Version AEG (Black) -status: Pre-Order
Modelo LowCost!! de MAGPUL!
-- CNC aluminium alloy made upper receiver and Polymer made lower receiver
-- PTS 120rd PMAG™ Mid-cap Magazine (With Non-Functional MagLevel Window)
-- Masada ACR Carbine Fixed Stock (Includes a 2-position, user-adjustable cheek pad that raises ~0.5" for optics or night vision usage)
-- 14.5" Carbine length barrel
-- Laser Engraved MAGPUL Logo Monogram on grip
-- Black Color
The PTS Masada Streamline Version (SV) is an airsoft AEG (Automatic Electric Gun) which is based on Magpul® Masada GEN 3 design, completely reproduced in all details.
The Streamline Version (SV) is the economy model of the PTS Masada. Various changes were made to the airsoft version of the Masada whilst maintaining some core features including a gas-piston operating system, tool-less quick-change barrel system, rapidly reconfigurable calibre & magazine compatibility, stock type, and fire-control setup.
The front sight and rear PTS MBUS iron sight has been omitted and the PTS PMAG 120 round Mid-cap has been replaced with a 75 round ABS plastic made PMAG. These changes allow PTS to bring to market a high quality but more competitively priced streamlined version of the Airsoft Masada.
Precio/Price: USD$290.00, sin envió, ni aduanas, etc...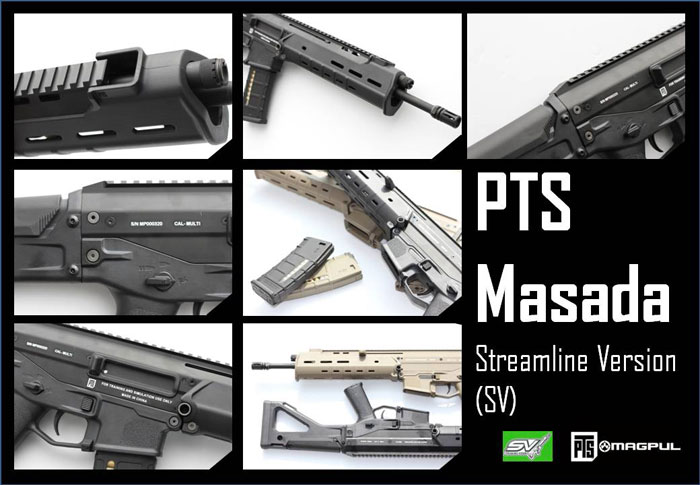 • Enhanced Version Ill type gear box AEG.
• Tool-less quick-change barrel system.
• CNC machined upper receiver made from aluminium alloy.
• Milled into the top of the receiver is a 37 slot, continuous, M1913 rail for mounting optics.
• Polymer lower receiver.
• Fully ambidextrous controls include the fire selector, magazine release, and bolt release/bolt lock-back.
• Optional rail mounting points are integrated on both the short and long versions of the polymer hand-guard at the 3, 6 and 9 o'clock positions.
• Multi-adjustable fixed stock can be easily swapped to adapt to changing mission requirements.
• 14.5" Carbine length barrel.