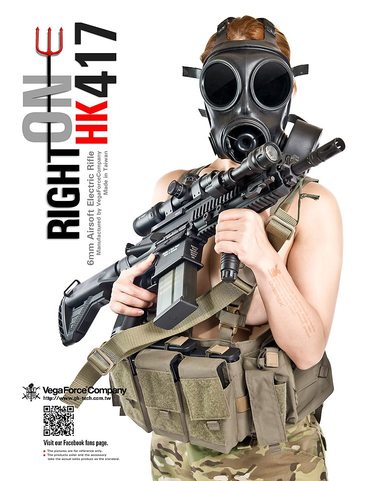 Seeing the funny pictures that Vega Force Company[1] (VFC) uploaded on their facebook page a few hours ago, the first thing to notice is that they apparently like planking and Star Wars.

But even more interesting probably are the new gun models lying on that table.

The first two are HK416C[2] versions, followed by two regular HK416 models (10.5 and 14.5 inch barrel length) and the fifth gun appears to be a HK417 with silencer.

The HK417 can be identifiied more easily in VFC's video of their collection, where we clearly see the bigger magwell:

http://www.facebook.com/photo.php?v=129998840446820&set=vb.125385545733&type=2&theater.

Officially VFC only mentioned the HK416C yet, so we have no information about the HK417 and as VFC produced both HK416 AEGs and GBBs we can't be sure about the type either.

But judging from its pistol grip, a GBB system seems more likely, as all HK416 AEGs released so far used the Tango Down style pistol grip[3].

The new style H&K grip present on VFC's HK416 GBBs and this HK417 features a steeper angle which could make it difficult to fit a motor inside.

However it's not necessarily impossible to do so.

The HK416C now is confirmed to be a GBB (which also makes an HK417 GBB look more probable, due to VFC's general concentration on GBB models in the recent time) and we can even see a working prototype in their Youtube video:

By

http://www.airsoft2day.com

- World Airsoft News - Read full article:

http://www.airsoft2day.com/news/592-vfc-hk416c-gbb-and-hk417.html#ixzz2vCYhUaw8



_________________

En mi casa se piensan que estoy loca!!!Tengo que confesar algo..anoche no tome la medicassioon.